Divorce Attorneys in the Downriver Area
Filing for Divorce or Separate Maintenance in Taylor, MI?
Talk to A Michigan Divorce Law Attorney Today
With years of divorce law experience, the Downriver Law Center helps couples in Taylor, Michigan, settle their disputes and start the next chapters of their lives. Work with us, and you can expect unwavering support during your divorce proceedings. Call us today to schedule an appointment with a divorce law attorney. We serve clients throughout Michigan, including Wyandotte, Woodhaven, Southgate, Trenton, Taylor, and The Downriver Area.
We know that the process of divorce can be emotionally taxing. You're experiencing major shifts in your family and relationships, and that can take a toll on both you and your loved ones. While navigating this difficult situation, having an attorney in your corner who can take the weight off your shoulders can allow you to focus on what truly matters-your well-being and the well-being of your family.
See Why Families in Our Community Trust Us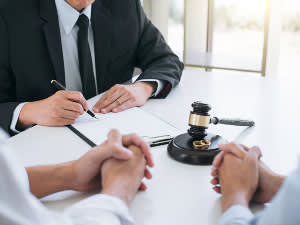 Filing for divorce or requesting separate maintenance is a major decision. During such a big life change, you shouldn't trust just any attorney. Retain the Downriver Law Center if you need legal support. We'll stand by your side while you and your spouse decide how to split your assets or support your child.
Our goal is to represent you with integrity. We'll seek to tell your story and advocate for your best interests so you can move forward with confidence. Starting a new stage in life can be intimidating, but with a legal team by your side who can lift you up and help you build a better future, you can start out on the right foot.

We understand that everyone's family situation is different. That's why you can always count on us for individualized and sensitive counsel and trust that we'll address your family's unique needs. If you're getting ready to file for divorce or separate maintenance in Taylor, Michigan, as well as Wyandotte, Woodhaven, Southgate, Trenton, and The Downriver Area, get in touch with us today.